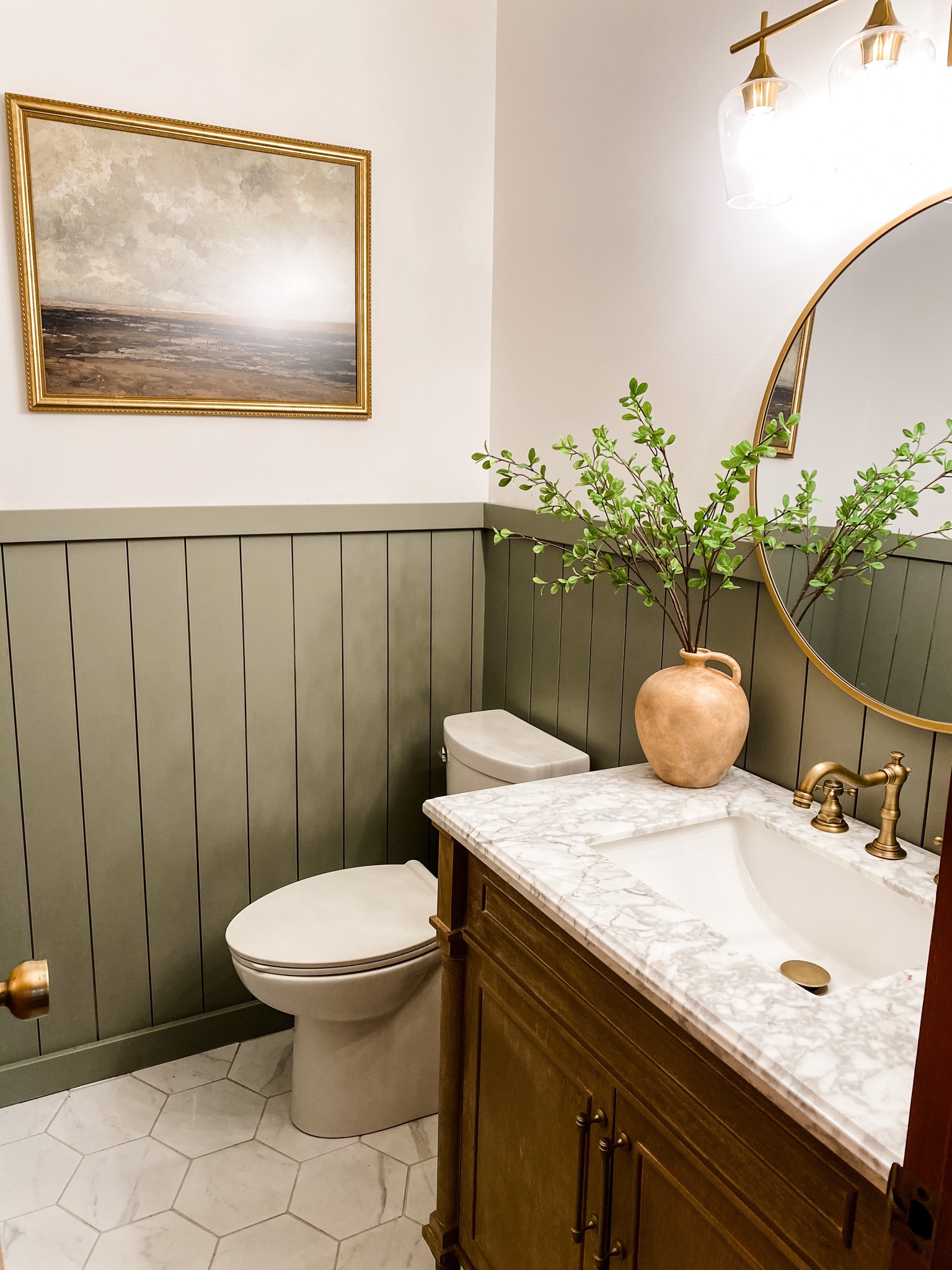 Back in October 2020, when we saw this house for the first time, I wasn't quite sure what to think of this powder bathroom. It sure had a lot of character! We lovingly referred to it was "the green bathroom" and you'll notice from this reveal that I just had to keep a little bit of that name in mind. Now let's not get crazy! That green toilet and green sink surely had to go. Come see what we replaced it with!
You can see my original mood boards here. I ended up choosing Mood Board 2 but made a few changes with the faucet, lighting, and mirror. Actually, the mirror was a last second change when we realized the black one I had selected wasn't going to work. Thank goodness for shopping your home! You'll probably recognize that mirror from our recent brick room remodel.
I'll admit, Vince and I were super nervous to do the tile floors in here. And even though they aren't perfect, I love how they turned out! We did a 4ft vertical shiplap wall treatment using these boards from Home Depot and then I painted them in Storm Cloud Gray by Benjamin Moore. Why Storm Cloud Gray? Well, since this room is within eyeshot of the brick room, I wanted to tie the green back in and make sure it flowed. This color is just down the color swatch from Dark Olive and I think it works perfectly in here!
This gorgeous vanity was a Black Friday sale find and it is such a pretty wood tone. I love how the counter top plays into the floor tile. I think the size works great in here. I ended up spray painting the hardware gold so that it would match the other gold accents in the room. The final detail was a new toilet and this one fits the bill!
I've linked up everything below for you! Let me know what your favorite part of this powder room reveal is. Do you miss all that green? 😉