Did you catch this recipe I shared over on my Instagram reels a few weeks ago? Well, if you haven't tried this yet, now is the time! Such a yummy, easy recipe with very few ingredients. If you're here for the typed up recipe... here you go!
Ingredients:
2 cans of Biscuits
1lb of Brie
Cranberry Sauce (I used about half a can of whole berry cran sauce)
Rosemary
Thyme
*And a Bundt Pan
1. Preheat your oven to 350* and grab your bundt pan. I've seen some people use muffin tins, so whatever baking dish you got, give it a good spray of oil!
2. Open your biscuit cans and cut up the brie into cubes. Separate the biscuits into 2-3 chunks and flatten them out. Add the cubed brie inside and roll into a ball. Place it inside your pan and create a layer.
3. Chop up your rosemary and thyme and sprinkle on top of the brie balls. Use as much or as little seasoning as you'd like. I tend to eyeball this step and not use a specific amount.
4. Scoop out some cranberry onto the layer. Don't go too heavy with this or else it could end up soggy. I'd recommend about 1/4 of the can per layer.
5. Continue these steps until you have 3 layers. Pop into the oven for 35-40 minutes and let it cool. If you used a bundt pan, flip it over and serve while hot!
Enjoy! Let me know if you make it and share it with me on Instagram.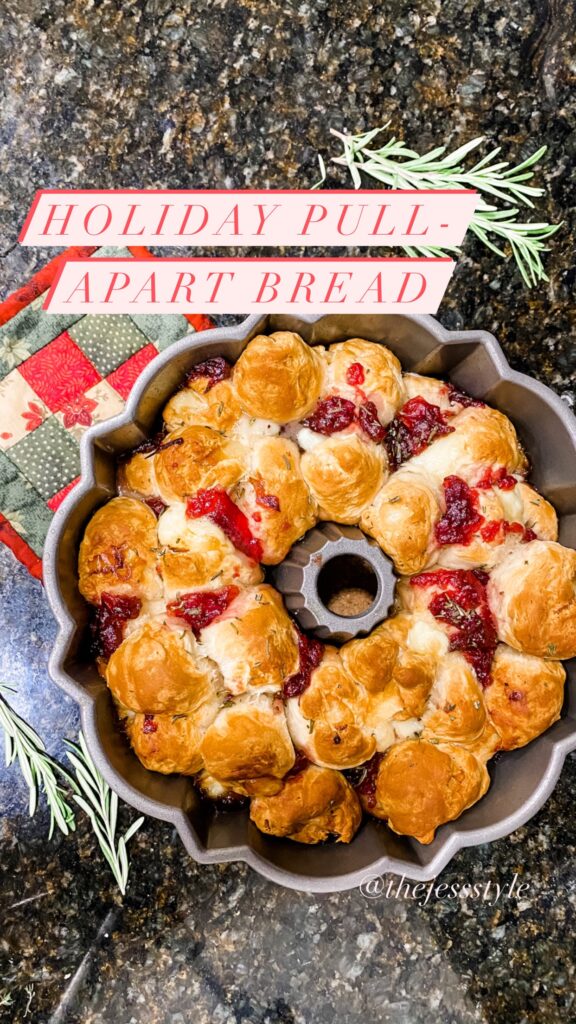 Original recipe from Tasty.