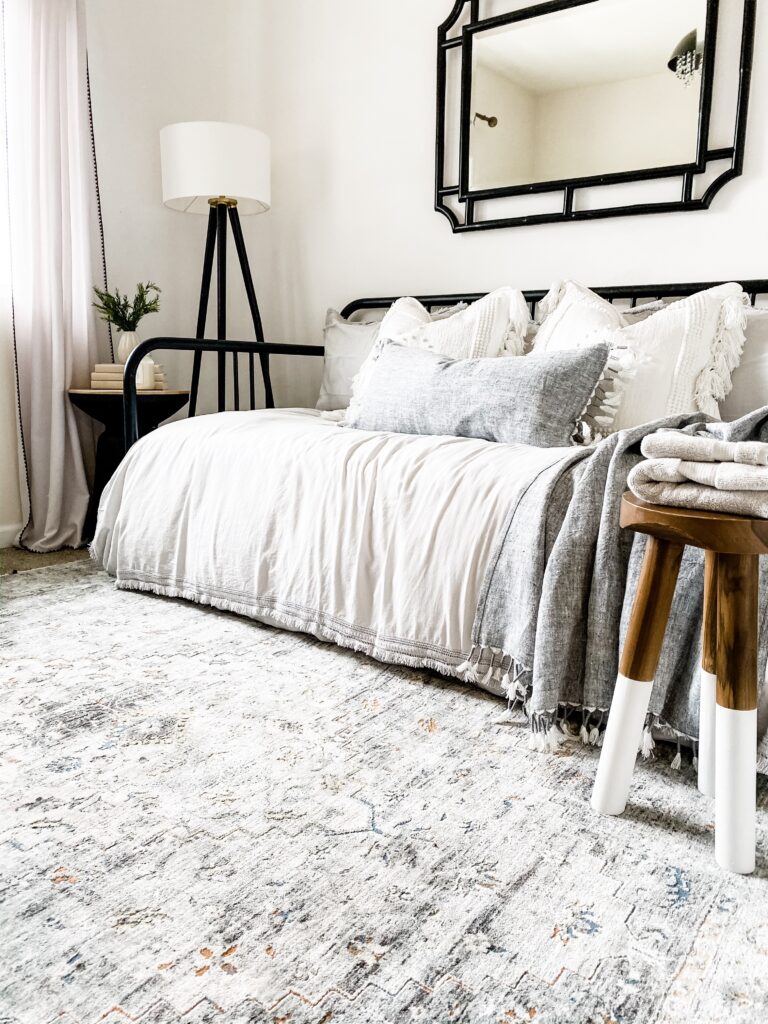 One of my favorite things about the holiday season is entertaining and I love being able to open my home to guests! Our guest room just got a little bit cozier thanks to Serena & Lily and their best-in-class bedding. It truly is the most luxurious and comfortable bedding I have ever used. We have a similar duvet in our master so it felt only right to spread the cozy factor over into our guest room as well.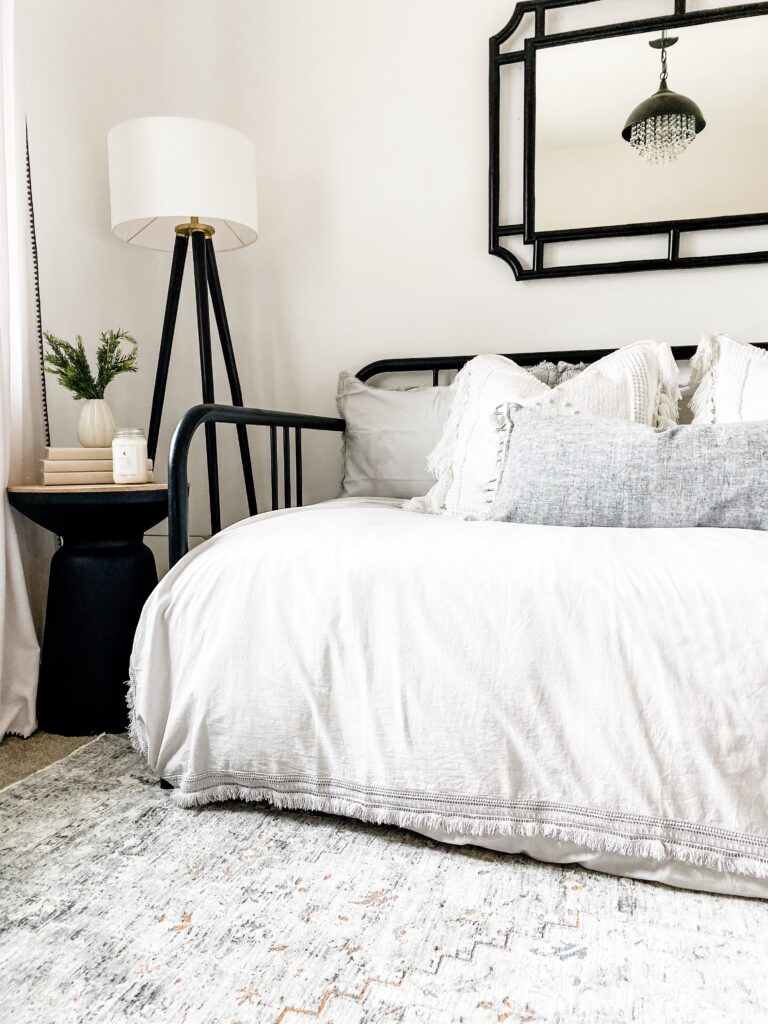 Not only is the bedding super soft but I also love how much texture they add to this space, especially this gorgeous Topanga lumbar pillow in front. I have a tendency to keep to a pretty neutral color palette so I feel like it is super important to mix texture and patterns.
The black frame of the Ojai mirror also helps to create balance in the space and ties in with the bed frame, end table, and lamp. This mirror is such a great size and can also be hung vertically. I chose to add it above the bed to create an illusion that the room is larger than it actually is. I also love the character that it adds!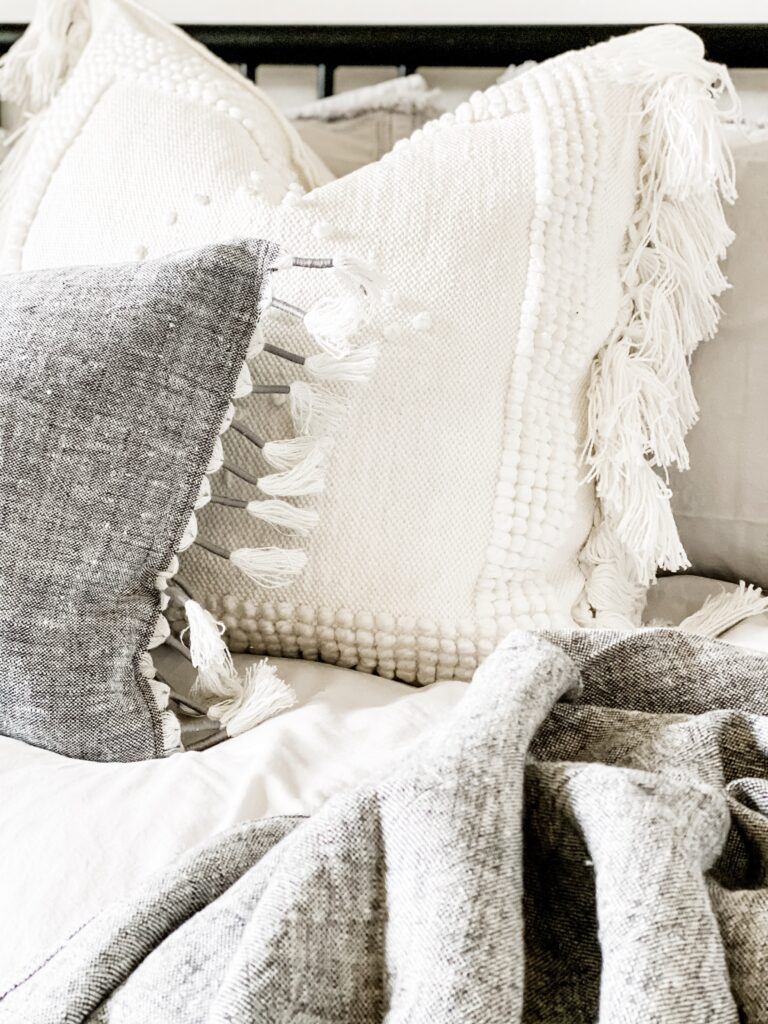 For the bedding I did a mix of grays and whites. The sheets are a beautiful white linen, the duvet cover is a light gray, and then I mixed in some whites and grays for the pillows and throw. I love the texture on this throw so much that I may just have to steal it for the end of our master bed! Do you see how cute those little tassels are with the metal detail!?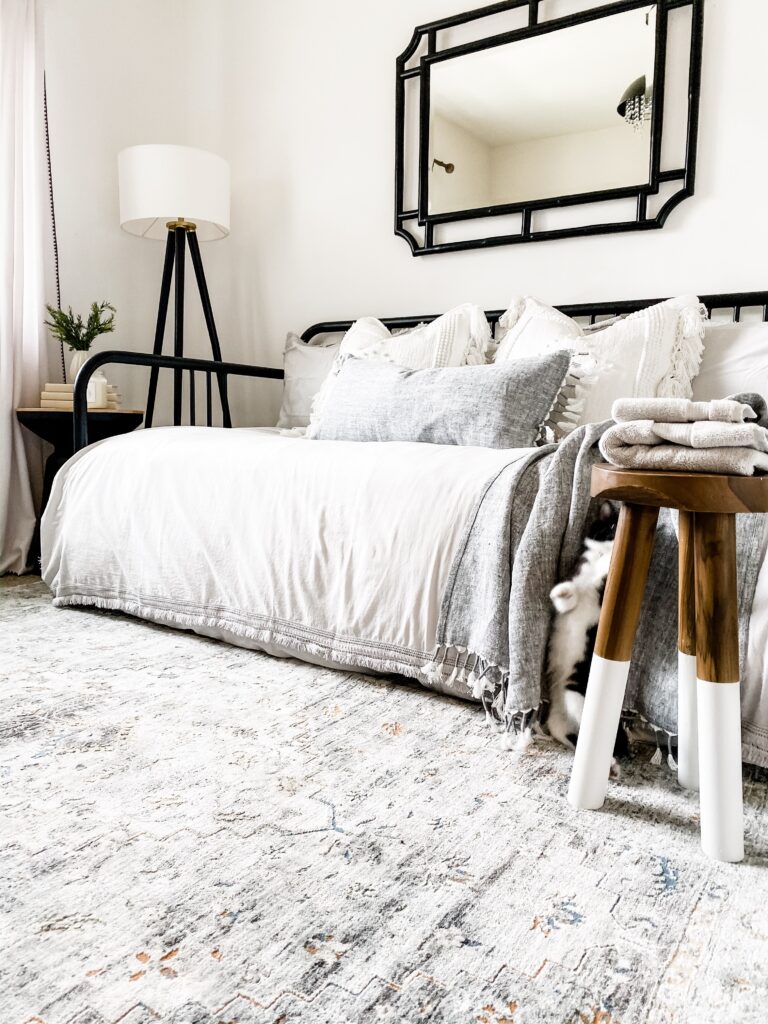 I had a little visitor while I was taking photos of this room (see above) and she sure loved knocking down the guest towels that I set out! I bet you she just wanted to snuggle up in them because they're seriously THAT soft! I think that setting out a special set of towels for your guests is an important detail not to overlook.. and also a good idea if you don't want anyone rummaging around your messy linen closets (like mine!).
Creating a comfortable space for guests is super important to me because I want every person that comes into my home (and especially that stays with me!) to feel welcome. This space is so much more inviting thanks to the Serena & Lily bedding and bath set... but it's also so pretty to look at when there aren't guests too!
I hope this post was helpful for providing you with inspiration on how to style a space this holiday season that is welcoming and cozy for your guests. You can find more links and sources here. A special thank you to Serena & Lily for sponsoring this post.